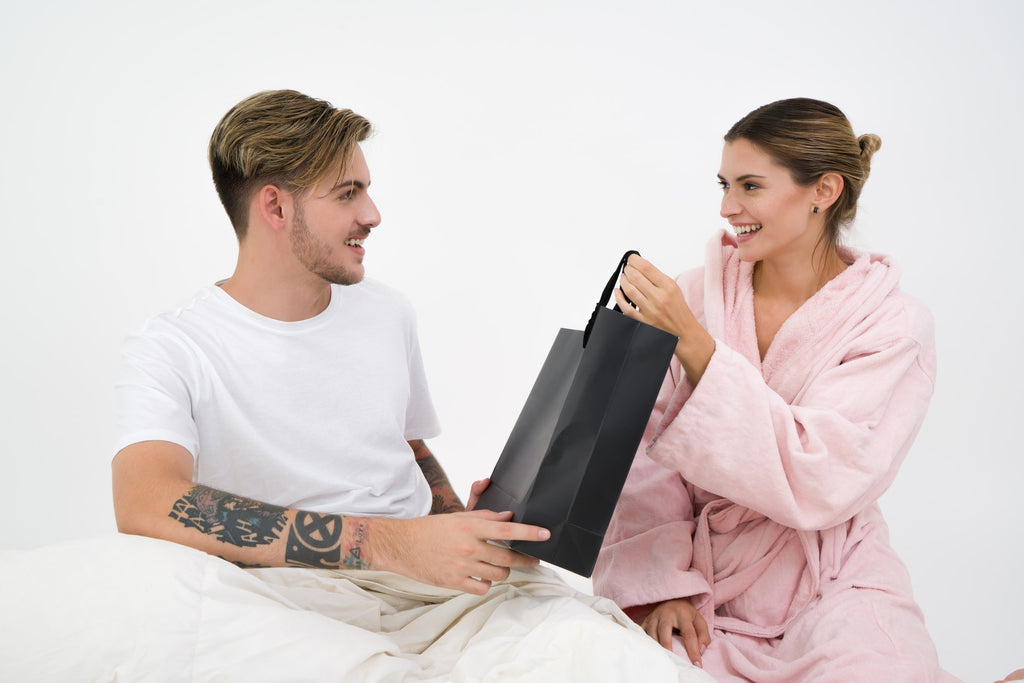 Affordable Push Gift Ideas Every Mom Would Love
If you're looking for great affordable push gift ideas and you don't know where to start, you're not alone. What do you give someone who has grown a human and has undergone extreme physical strain, to give you the best gift of love in the shape of a little human? You wouldn't want just a half-hearted gesture. You'd want to give something your partner would absolutely love and appreciate. But as much as a diamond necklace or a trip to the Bahamas may seem fitting, it's just not practical with a newborn. You want to be able to give a gift that's easy on your pocket yet something the love of your life will appreciate. Here are some affordable push gift ideas to help you find that perfect push present for an incredible partner.  
Comfy Pajamas
Photo by cottonbro from Pexels
Mommy's will want to be experiencing weeks of discomfort and sleepless nights. A gift that can help them feel better and more comfortable as they adjust to their new routine with a newborn is perfect as a push gift. A few sets of the most comfortable cotton pajamas may just be on the top of the list of our affordable push gift ideas. You can buy multiple types of pajamas. Some for the colder season, and some for warmer weather. Give her a great collection of pajamas that can help her sleep and feel better every day. 
An All-Expenses-Paid Spa Day
Photo by Andrea Piacquadio from Pexels
Let's face it, it has been months since mommy has felt comfortable and happy in her own skin. A really wonderful push present that you can give your partner is an all-expenses-paid spa day where she can get pampered and get back to feeling beautiful and relaxed. There's no one else in the world that deserves this more than her after giving birth. She can take a day off from all the hard work of taking care of a newborn, and spend some time taking care of herself. She can get a massage, get her nails and hair done, get a facial, and come home feeling fresh and revitalized, ready to conquer motherhood once again. 
A Beautiful Cardigan
Photo by Anastasia Shuraeva from Pexels
Every mom feels an uncomfortable stage after giving birth. Their bodies are not what they once were. Everything will feel odd and unfamiliar, not to mention painful and uncomfortable. Their old clothes may not fit them well anymore, and they might just dread going out in public when they feel this way. An affordable push gift idea would be to buy them a beautiful cardigan. There's nothing better than a comfortable cardigan that they can wear over anything from jeans to dresses, and feel somewhat normal as it covers up all the bits and bobs that they aren't comfortable out in public yet.
No mommy can refuse a cardigan that they can wear to help them feel a little more confident with their post-partum body. The best part is, they can wear this even after her recovery from pregnancy. We have a great collection of cardigans and sweaters here at Dream Closet Couture at really great prices. 
A
 Camera or Camcorder
Photo by Jessica Lewis from Pexels
If there's one universal thing that every mom does with their newborn is to document every second of their every day with them. From how they open their eyes in the morning, their first smiles, the way they sleep, down to how their little hands and feet look, mommy's (and daddy's) love to take photos and videos of their newborn. This is why a camera or a camcorder is a perfect gift for a new mom. You and your partner can document every precious moment with your little one. This is a great investment to make as it is something you can use throughout your newborn's childhood. 
This may not feel like it belongs in the category of affordable push gift ideas, but you'll be surprised at how many options you can find of cameras that are around a $100 to $200 price-range, that are of great quality. It doesn't have to be fancy or high-end. Anything that can capture your memories is good enough. 
A
 Professional Cleaning Service
Photo by cottonbro from Pexels
As much as you want to be able to help do all the chores at home, you may not be able to do just as well as mommy does. You'll both have your hands full with a newborn and a messy home may just add to the stress and anxiety you'll feel as you adjust to a new life. This is where a professional cleaning service comes in. For one of the most perfect and affordable push gift ideas, a professional cleaning service can take a load off of your partner's shoulders and help them tremendously during this big adjustment. 
Having someone or a team come in to help clean and organize your home can be both rewarding and relief to your physical and mental health. This will give mommy a chance to focus more on your baby, and less time worrying about the state of your home. 
Final Thoughts
Give mommy the absolute best and well-deserved present to help her feel the love after she experienced the most challenging few months of her life, without breaking the bank doing so. These affordable push gift ideas will make every mommy happy at a time when they feel incredibly tired and overwhelmed. Most importantly, it's a great way for you to show your partner just how much you appreciate everything she has done for your growing family. She deserves every kind of love you can give her. 
---