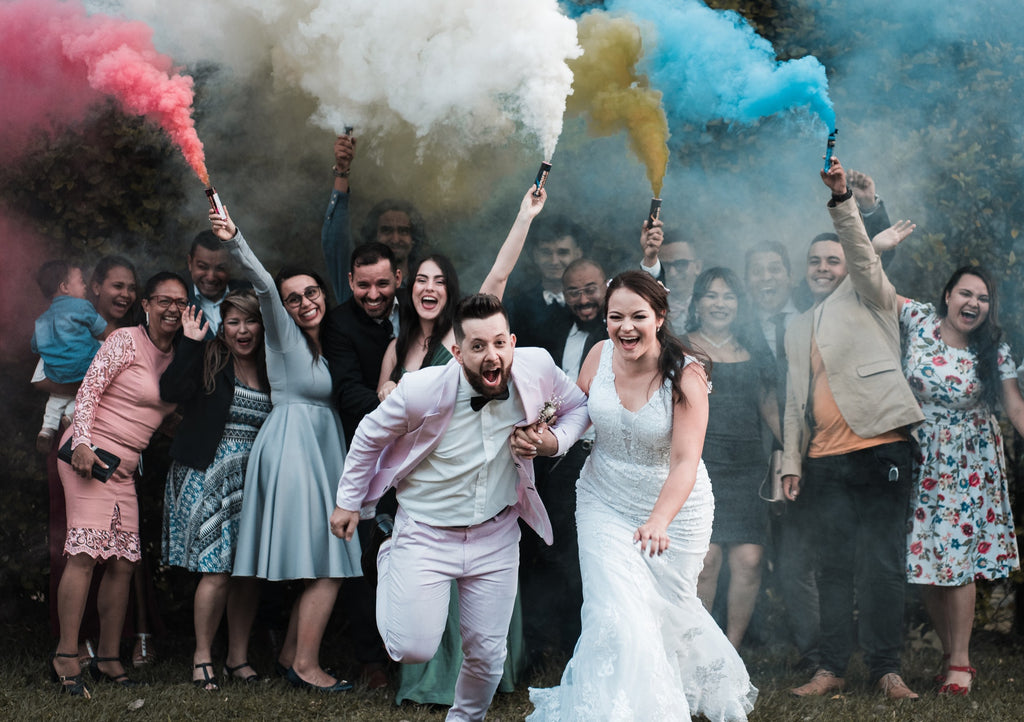 Wedding Outfit Ideas: How to Shop for a Strict Wedding Motif
The biggest challenge of trying to find the right outfit to wear for an event with a strict color motif is the actual shopping part. With such limited options, you can literally find yourself spending an entire day at the mall, and not having one option you are completely happy with. Before you exhaust all of your energy, take a look at these helpful tips that can make finding wedding outfit ideas for a strict color motif, a lot easier to do. 
How to Shop for a Strict Wedding Motif
We've all experienced the stress of trying to look for wedding outfit ideas for a strict color motif and struggling completely with putting something together under the budget we are aiming for, without stressing ourselves out too much along the way. These tips aim to help save you time, money and generally make shopping for a strict wedding motif a lot easier than it usually is. 
Know What Dress Style You're Going for
Before you start searching for perfect wedding outfit ideas, you want to make the search easier for yourself. If you're looking for a dress for a lilac motif, you can find hundreds of dresses online. But you'll only feel comfortable in a handful of these dress designs. Consider the type of dress style that you're 100% comfortable and feel confident in. It'll depend entirely on your body type. 
To help you know what dress style to go for, bring out your top 3 favorite dresses you've worn in the past. These are dresses you know will compliment your body well and you can feel happy wearing for an entire day of celebration and photo-taking. Aim to look at dresses similar to these styles to narrow down the search for that perfect wedding outfit. 
See What Accessories You Already Have
This is a really effective money-saving tip if you don't want to have to spend a lot of money on your entire wedding outfit. Have a look at what accessories and these are your jewelry, your shoes, coat, scarf, and purse, that will go well with the color motif you are working with. By having these in mind, you'll only need to spend money on a dress, and nothing else. This also means you can splurge a little more on your dress. 
Additional Tip - If you really want to be 100% sure that your dress will work well with your accessories, bring these along when you shop so you can try them on and get a good idea of all the wedding outfit ideas you can create with them. 
Try Online Before Going Out to Shop
Before you go out to shop at a mall or at a boutique, try your hand in shopping online first. You don't necessarily have to buy something online immediately, but this will help you get an idea of what you can find at the mall before you actually go. Check the websites of the shops you plan to go to and see what type of wedding outfits you can find. This will help you save time going to every shop at a mall if you already have a good idea of what they have available. 
Another advantage of shopping online is that you might already find something perfect for you without the need to go out to shop. Have a look at all the online boutiques that offer a great selection of dresses for cute wedding outfit ideas for all shapes and sizes. Here at Dream Closet Couture, our dresses are our best sellers!
Tips for shopping online:
Check the size chart - Always double-check the measurements of the size chart. You wouldn't want to buy a dress only to find out that it doesn't fit you. 
Check the return and exchange policy - In the situation that you might want to have your items returned, it's a good idea to check the online shop's return and exchange policy before committing to buying anything. Better safe than sorry. 
Check the shipping arrangements - Different shops have different shipping arrangements. It's important to check this as you wouldn't want to find yourself in a situation where your wedding outfit doesn't arrive on time. 
Have a Color Palette with All the Color Shades of that Motif
To help you stick to the wedding motif, have a color palette ready for all the shades of colors that go under the color motif. It'll be hard to just stick to one exact color. It's a good idea to have options. For example, if the color motif is orange, you might want to have options of peach and tan as colors. Have something handy on your phone for reference just so you don't get too overwhelmed trying to determine if wedding outfit ideas fall under the umbrella of the strict wedding motif. Just search for color palettes on Google. 
Wedding

 Outfit Ideas 
Have a look at our beautiful collection of dresses at Dream Closet Couture where you can find the best wedding outfit ideas in almost every color motif. We love dresses of all shapes and styles. Choose from maxi dresses, cocktail cuts, sequence, and satin. Happy Shopping Ladies!
---