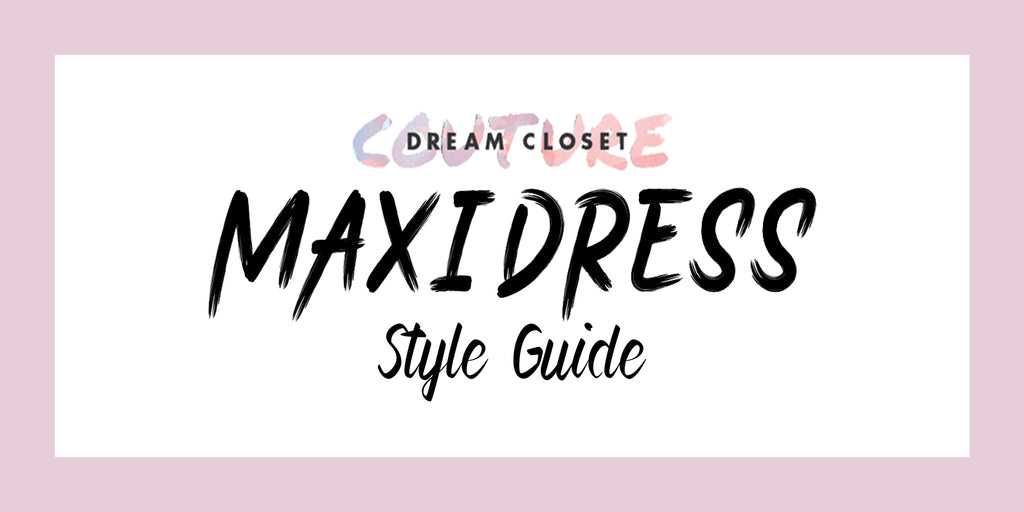 How to Style a Maxi Dress for Every Season
A maxi dress is just one of the most comfortable, the most versatile, the most flattering, and the most loved style staples out there. It is timeless, and it is current. And there's nothing better than a great maxi dress that works for every season. And no, we aren't overselling the ever-loved maxi ensemble. It is possible to rock a maxi-dress outside of the summer season. Here's a quick list of exactly how to style a maxi dress for every season of the year.
How to style a Maxi dress for Every Season
If you have an absolute favorite maxi dress that compliments you and your body in the best way possible, you'd most likely want to use this EVERY CHANCE YOU GET. This means wearing it every season of the year. Say goodbye to the idea that you can only rock your maxi dress during the summer season. Here are some great ways for you to style your maxi dress all throughout the year. 
Autumn Attire
The autumn season plays perfectly well between warm and cold seasons. You can bring out your favorite jackets, but not feel restricted and covered-up with layers upon layers. Our Alberta Button Long Maxi Dress works perfectly with our Nadine Leather Jacket. Accessorize this outfit with your favorite go-to staple white sneakers or Chelsea boots, and you'll have the perfect #OOTD moment for the autumn season. 
Winter Wear
We absolutely love all the possibilities the cold weather has to offer when it comes to styling. You can literally work wonders when it comes to layering. And layering with a maxi dress is no exception. Our beautiful Marilyn Floral Dots Midi Dress in Burgundy has the perfect slit to rock black knee-high velvet boot with. Add a cozy and thick knitted oversized sweater, and you've got yourself the  


Spring Essentials
As springtime arrives, so does the excitement of feeling the warmer weather, feeling the sun more often, and the promise of summer just around the corner. And what a perfect time to whip-out your maxi dress, rock this with a great spring jacket, sneakers, and the ultimate spring accessories. Our Naila off-the-shoulder deep yellow maxi dress is a definite spring statement combined with sneakers and a denim jacket!
Tips for Choosing the Right Maxi Dress for You
You can do so much with a Maxi Dress, but if you've never bought one before, how do you know what to get? Here are some great tips for buying a maxi dress. 
Prints and Textures are slimming 
If you want a more flattering dress that compliments curves, look for dresses with textures and prints. They eliminate unflattering shadows and make you look taller. And they are great for both formal and casual occasions. As much as possible, choose smaller patterns, and complimenting textures that embrace your curves, rather than reveal it. 
Consider the length
The length of your maxi dress is really important to consider when buying one. Everyone's heights are different, and you really need to make sure that the dress you are buying fits your height. If it's too long, there's a chance you'll look a lot smaller than you are. If it's too short, it will look ill-fitting. Always check the length of the dress, and if possible, fit it first before buying it. 
Choose colors that compliment your skin type
With a lot of fabric on you, it's really important that the color compliments your skin tone. And no one can tell you what suits you the best, but yourself. Choose colors that you are comfortable with. Make it a point that you do not break out of your comfort zone as it may not always turn out the right way if you don't fit it first before buying the dress. 
Buying a maxi dress will be a really great investment for you and your future style. But make sure that you do consider buying the right type of dress for you and your body type. 
Final Thoughts
Maxi Dresses work so well with many different styles. From a leather jacket to boots, denim, and even just a sweater, you can wear your maxi dress with everything, all throughout the year. Have the absolute best styles with all of Dream Closet Couture's maxi dress collection. There are a style and length for every woman, every size, and every style. 
---