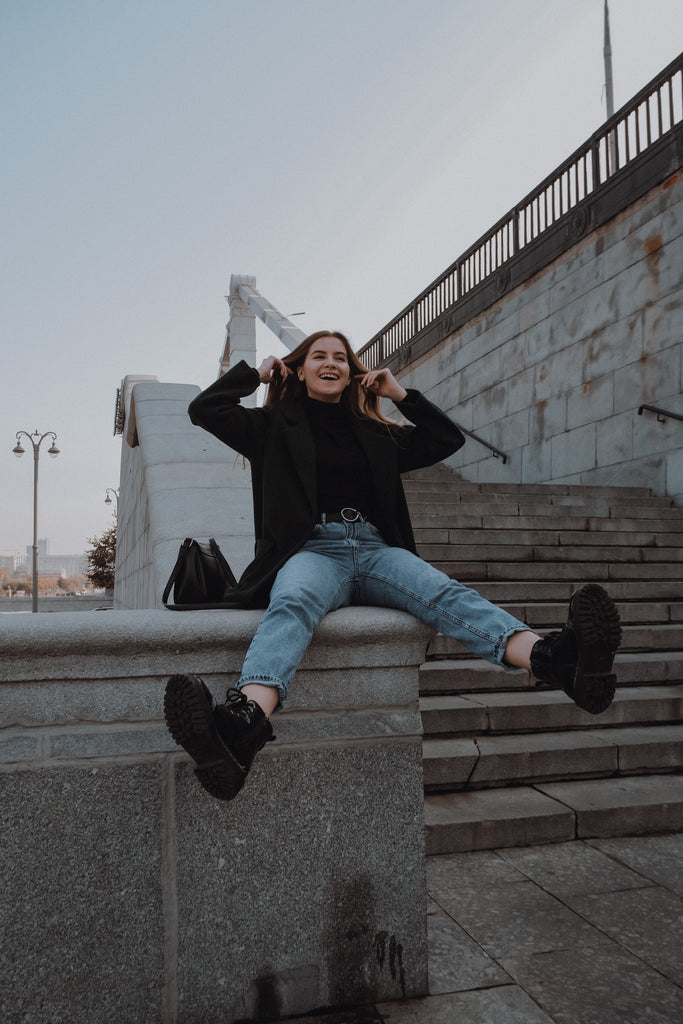 Outfit Ideas For Boyfriend Jeans
Once you've discovered the true comfort and convenience of the boyfriend jeans; the ones that fits perfectly on your hips, and has just the right wide to length ratio, you won't be able to resist wanting to wear this as often as possible. And the fact that you're able to style this in so many different ways, makes this the type of purchase that keeps on giving. Here are all the great and stylish outfit ideas for boyfriend jeans, for every day of the week. 
The Band Merchandise Shirt
This may just be the most classic way to style your boyfriend jeans. Find a great band shirt, tuck it in, and maybe add a belt or a leather jacket, and you'll have yourself one of the most universal outfits for your average comfy day out. The key with getting this outfit right is tucking in the shirt in a flattering way. Tuck it in, and pull it out just enough that it looks loose yet neat. This is where a belt can come in handy. You can also try tying the shirt on the back or the front just where it meets the jeans if you're okay with the fabric stretching a little. Try different ways to pull this outfit off. If you're someone who loves trying different outfits out, this is a good start. 
The Oversized Sweater
If you're looking for a 'throw anything on' look, or you literally just want to throw any outfit together and look good, go for the boyfriend jeans and an oversized sweater. You'll never go wrong. The magic of a great denim jean is that the color is quite the universal canvas that can work with any colored top and accessories. I don't think there's a color that clashes with the classic denim jean blue tones. And it's a great way to rock any old oversized sweater you have in your wardrobe. 
The Fitted Turtleneck
The turtleneck and loose denim jeans will take you back to the 80's and 90's era in fashion. Style this with sneakers and a denim jacket, and it'll feel like you've gone back in time. But if you want a more up-to-date look, just have your jeans, sneaker, and fitted turtle neck, accessorize this with hoop earrings, and you have yourself a very chic look. If you need an extra layer for warmth, rock t his with a long coat or cardigan of your choice. We have a great fitted turtleneck piece for $22.99 and comes in a wide selection of colors. Get one, two, or ten for your outfit ideas for boyfriend jeans. 
The Sports Bra
Let's face it. There's nothing more comfortable than walking around with your favorite sports bra on. How about try pairing this with your favorite jeans. If your boyfriend jeans happens to be a great high-waist cut, then this will work tremendously well. And your top doesn't necessarily have to be a sports bra. Work with different crop tops if this looks good. There's no limit with the 'cropped' style. Wear it fitted or loose, for as long as you are comfortable, then you can work this style. 
The Long Cardigan
There's something perfect about adding a long cardigan for your outfit ideas for denim jeans. You can be wearing anything from a turtleneck (as previously mentioned), a fitted top, a t-shirt, or even a thin strappy top, and a long cardigan will look chic with your boyfriend jeans. This can be just the right topper for spring or summer. Or that much needed extra layer for the colder seasons.
The White T-Shirt and Sneakers
If you want to keep it simple with an outfit that doesn't need a lot of work, or elements, but will still look equally stylish amongst our list of outfit ideas for boyfriend jeans, then it's time to go back to the ever reliable staple, denim jeans with a white t-shirt and sneakers. Nothing fancy. Simple. Stylish. And so easy to pull-off. You can wear any jacket or coat with this too. Have your hair down or up. Wear this for summer to winter, it'll work with everything, all year long. 
The Conclusion
The boyfriend jeans is one of those pieces that you can wear no matter your style, age, and body type. For as long as it fits you well and you're comfortable, you're good to go. Mix and match all that you have in your wardrobe to create stylish and fun outfit ideas for boyfriend jeans.
---