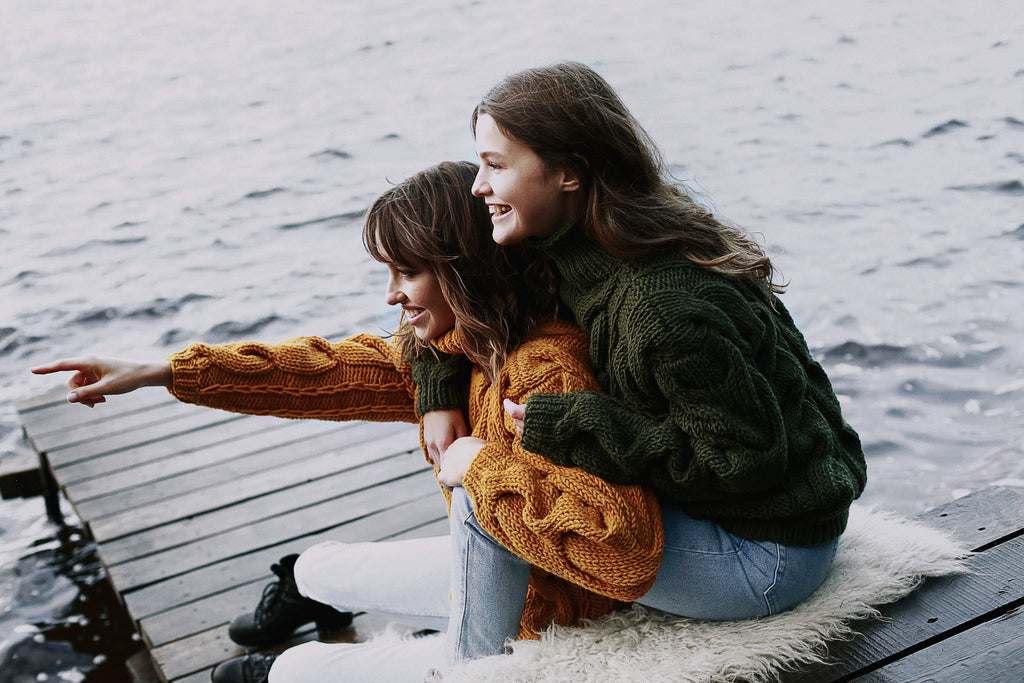 Stylish Sweater OOTD Ideas
A lovely, warm, oversized, knitted sweater is pretty much everyone's favorite piece of clothing in their closet. It is absolutely timeless. It doesn't matter what age you are, what gender you are, when that first brisk of cold winter weather hits you, your first go-to is a warm cozy sweater. For every winter season, we see this classic item come back in the scene every single time. And how can it not? It's such a winter favorite. And to keep things exciting, here are some brand new stylish sweater OOTD ideas to keep your cozy sweater look fresh this season.
The Fitted Turtleneck
The fitted turtleneck is quickly becoming a wardrobe favorite as it works so effortlessly with so many different outfits. Whether you wear them with jeans, skirts, or even under a blazer and dress pants, they work perfectly. They are a great go-to to keep warm for both casual and formal wear. And here's a few great ways to wear them. 
OOTD Idea: Denim Jeans & a Stylish Blazer
You really can't go wrong with something so casual yet so chic! Everyone has their go-to perfect denim jeans to style with your fitted turtle neck You can choose to wear your turtle neck with skinny or straight cut denim and match this with a blazer and boots (or sneakers), and you'll be set to go from work to your evening plans. 
Where to Buy
The Oversized Turtle neck
Of course, you can't get through the cold weather without the perfect oversized turtle neck. It is the epitome of comfort and style. And it works so wonderfully as a stand-alone statement piece, or as part of an orchestra of layers. Here's one great way of wearing your oversized turtle neck. 
OOTD Idea: 
The Printed Skirt and Boots
The printed skirt is where the party's at right now. And the printed skirt, boots, and your cozy oversized turtleneck is definitely a must-try OOTD for the colder season. It is quite literally one of the most comfortable outfits you can wear right now. And it is an absolute blast mix and matching your different sweaters with your choices of skirts. 
Where to Buy
The Classic Crochet Sweater
The classic crochet sweater works really well as your go-to casual OOTD fix for a chilly day out. It's cozy and comfortable, and it is easy to style. And on top of this, it doesn't really matter what color you get it in as it can work with anything in your wardrobe. Styl this with a dress and boots, tailored pants and sneakers, or your basic t-shirt and jeans. 
OOTD Idea: Basic T-Shirt and Jeans
Take your favorite denim jeans, and your comfiest white t-shirt, and complete your OOTD with a classic crochet sweater. This outfit is so versatile as you can change the shirt, and wear almost any kind of denim (from dark to light), and it'll still look as chic as ever. 
Where to Buy
The Two-Piece Sweater
This is the season for monochrome outfit ideas. You can work with different layers of different textures, that cohesively create stunning monochromatic OOTD's. And this is what makes the two-piece sweater trend a must-have this season. 
OOTD Idea: 
Wear the most effortless monochromatic outfit and style your two-piece sweater with white sneakers and a sling bag, and you are set for a day of absolute comfort. If you need added layers for the cold, add a long coat or a puffer jacket to get the job done.  
Where to Buy
The Cropped Sweater
Take us back to those '90s OOTD's when crop tops ruled the scene. The cropped sweater is the ultimate combination of comfort and street style. Wear this with high-waisted jeans, a-line skirts, or even a cute pencil skirt. Any way you do it, it's guaranteed to be an absolute stunner.
OOTD Idea: 

Wear your cropped sweater with a lovely tailored pant and heels, and make comfort look office-ready. Choose neutral colors that compliment your cropped top, and accessorize with something minimal and simple to make your sweater stand-out as the statement piece for your OOTD. 
Where to Buy
The Cut-Out Sweater
Everyone loves a cut-out sweater as it completely transforms a regular sweater into an edgy and unique piece. Step out of your comfort zone and have fun with different cut out designs and colors. It's a great way to keep things fun yet comfortable. 
OOTD idea:
Style this fun and unique piece for a quick and easy office wear outfit to your dinner OOTD, with a cute statement skirt, boots, and a stylish clutch. Workaround colors that complement one another, and you'll have an outfit you will honestly want to wear almost every day. 
Where to buy

Conclusion
From denim jeans to patterned or tailored skirts, coats, boots, and sneakers, you can literally style any sweater silhouette with everything you love to wear in your wardrobe. Have fun and try all the different ways you can style your cozy winter sweater to create the most perfect and stylish sweater OOTD's for the cold weather. 
---